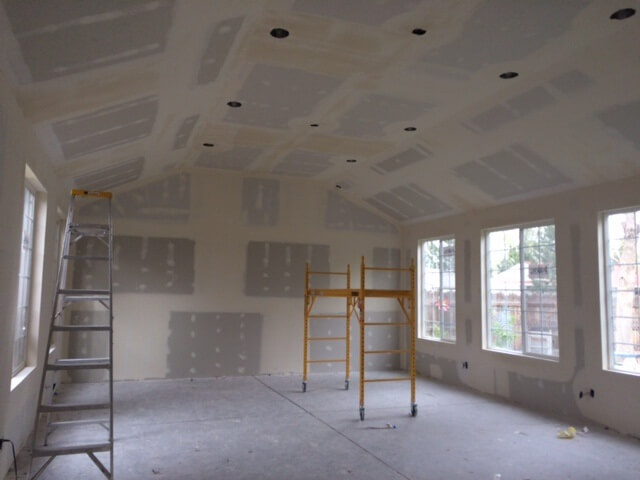 In the world today, most homes and businesses have drywall installations. However, as we go through our activities day after day, walls get rough; This could be due to cooking, activities of kids or pets. For this reason, you need drywall installation Greenwood Village CO.
Drywall Installation
There are other common names for drywall boards; they include plasterboard, wallboard, and sheetrock. Drywall is basically gypsum plaster wrapped with thick paper on each side. They come in different standard sizes and are easy to transport. The boards are screwed onto the studs or frame using screws. For cutting and sizing, simple tools are employed; they include a utility knife or saw, simple T-square and measuring tape.
Once the boards are put up, the seams between boards are covered; this also applies to the joints and screw holes. The covering is done using a paper joint tape and a splash of joint compound. The joint compound is also known as "float and tape" and is mudlike. The above processes make the wall surface smooth.
Drywall Repair
Drywalls are easy to repair. If there is a hole in the wall, it is simple to fix; the contractor would simply cut out a square of wall around the hole; thereafter, the hole is measured and with that measurement, a new drywall is fitted.
Drywall Replacement
The Sheetrock is also easy to remove and replace. This comes to mind in cases of water damage and numerous holes. In such cases, the entire wall or the affected parts can be removed and replaced. This, it is just like a new drywall installation.
For portions of the wall prone to water damage (e.g. bathroom), there are simple solutions. A perfect solution is the use of cementboards or green boards which are water-resistant.
Drywall Painting
For some homeowners, after installation of the drywall, they require nothing else; some people like splotches of joint compound and grey paper with off-white lines. However, for people who fancy color, it is time to get a good paint job done.
There are various colors available at home improvement stores. Most stores offer sample-size amounts; hence, various sections of the wall can be painted and colors compared.
Paint is also inexpensive and easy to apply; hence, color can be changed when needed. These days, old painting can be covered with a new one. There are also different forms of finishing depending on the room. Glossy finishes are easy to clean and are good for rooms that get messy easily.
Due to the ease of applying paint, many homeowners do it themselves. Good results have been recorded hence it is a good option. However, it requires tools such as brushes, dropcloth, and rollers. This comes at an extra cost, as a result, most homeowners consider hiring a contractor for drywall installation Greenwood Village CO. A contractor is sure to have the needed tools and experience. One can be rest assured that the job will be done perfectly and completed in due time as well.